Your Pond at Night
29 May 2018
Garden ponds can often be over looked once the sun goes down, but with a few simple accessories your pond will transform your garden into an incredibly atmospheric space.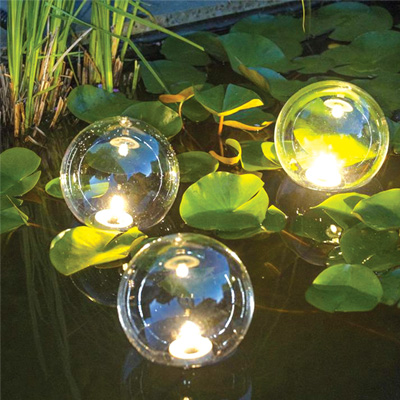 The first accessory to consider adding, if you have not already done so, would be some pond lighting. There are a lot of different ways to light your pond and water features. Underwater lights will highlight your fish swimming, external spotlights will highlight features around your pond such as waterfalls and fountains while contemporary light designs can become a feature themselves.
LED vs Hallogen
When buying submersible pond lights, you now have the choice of LED or Hallogen bulbs. The main difference being the yellow warm glow that a halogen bulb produces in comparison to the contemporary bright white light that the LED bulbs produce. However, it is also it is also worth noting that LED bulbs are more energy efficient so cheaper to run and have a notably longer life than halogen bulbs.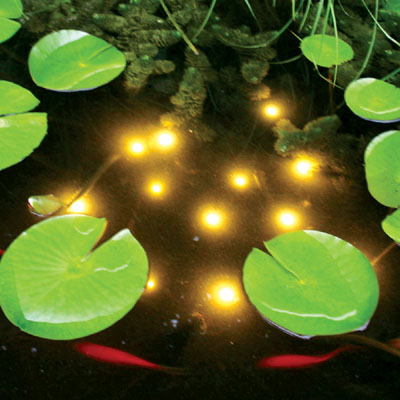 Underwater lighting
Submersible pond lights are fantastic for highlighting your fish swimming at night. With the PondXpert Brightpond and Pondolight light sets, you can change the colour of the lights with the complimentary coloured light filters (red, green, blue or orange). If you'd like to disguise your submersible pond lights then the PondXpert Triple Rock Lights set is cased in a realistic stone effect casting and will blend into your pond environment.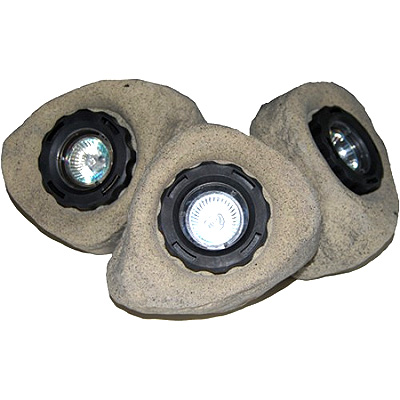 The Velda Welkin Pond Light will add something really different to your pond at night. It has wired branches that you can position yourself and when submersed underwater it mimics the reflection of stars in the night sky (see image above).
However, if you're more interested in lighting your pond in general, rather than particular areas, the Heissner LED Rope light can impressively highlight your pond edges with either white or coloured light (see image below).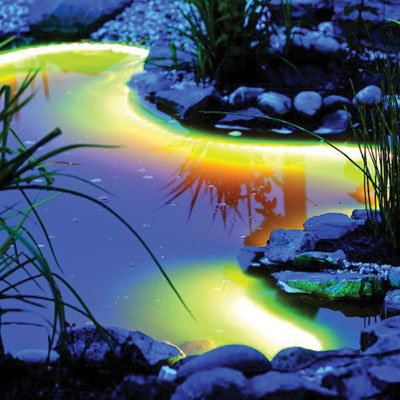 Lighting water features
If you have taken the time to create a beautiful water feature in your pond, then the addition of lighting could transform it into something magical.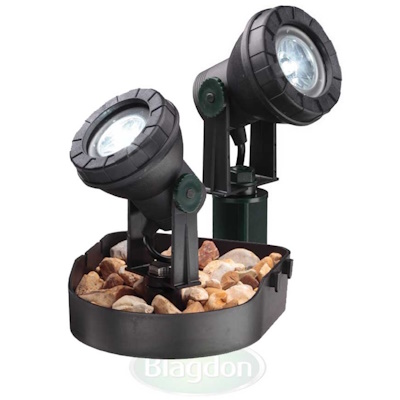 You can make your waterfall glow by angling lighting sets at the water flow. Again, the PondXpert Brightpond and PondXpert Pondolight sets will do this as well as the Blagdon Enhance LED Lights.
If you run a fountain, the new Hozelock LED Light Ring will illuminate your fountain. It is designed specifically to attach to the Hozelock Cascade or EasyClear, but it does have adjustable fittings so it will fit most pumps.
Creating new features with lighting
If you'd like to add a completely new feature to your pond using light, then the following lighting sets will float on your pond surface and create a real talking point...
Pictured above, the Velda Solar Floating Globes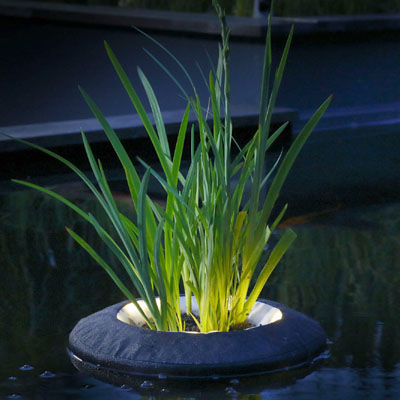 Pictured above: Velda Floating Plant Island with Light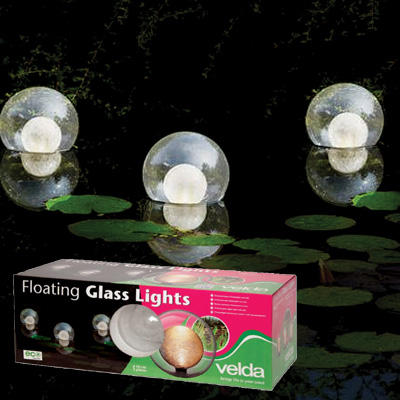 Pictured above, Velda Floating Glass Lights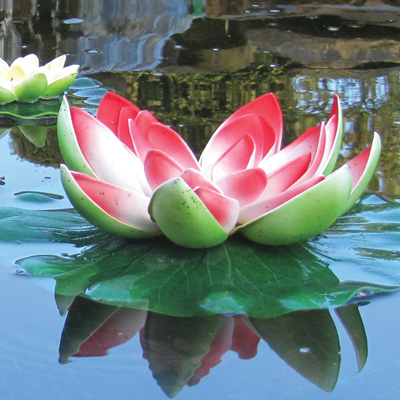 Pictured Above: PondXpert Solar Lily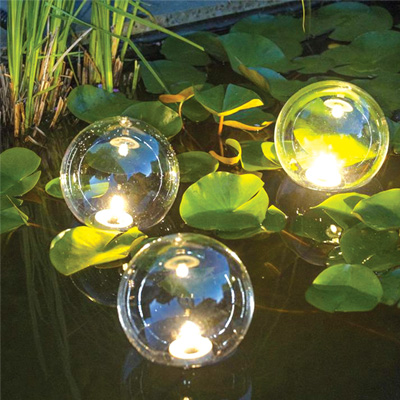 Pictured above: Ubbink MultiBright Float 3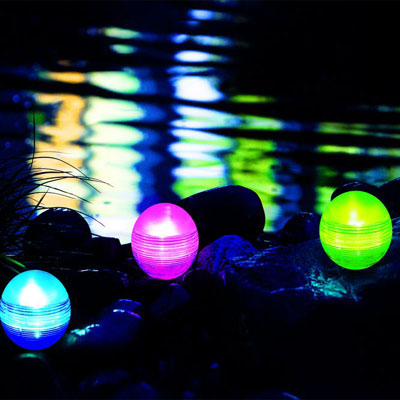 Pictured Above: Heissner Floating Solar Globes (three pack)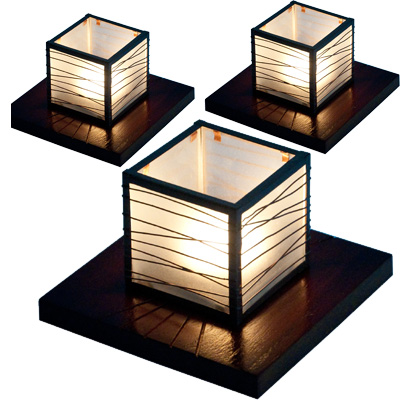 Pictured above: Velda Floating Candle Holder
Solar Lighting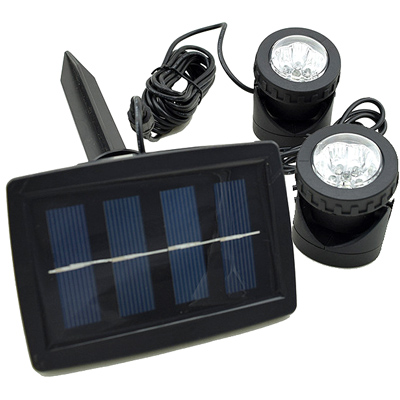 If electric lighting is not practical for your pond set up, then there is a great selection of Solar Pond Lights now available. Click here to view the full range of solar powered feature lights and submersible spotlights.
Mist Maker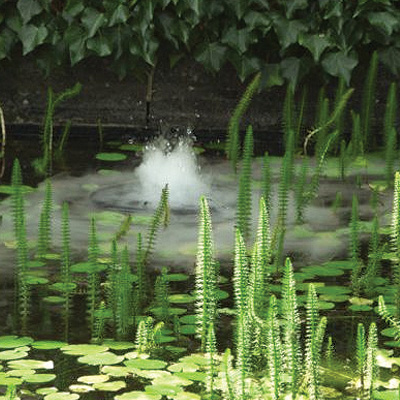 If you'd really like to build atmosphere in your pond environment at night then the new Velda mist maker will float on your pond surface and produce an ambient mist.
We'd love to see some of your pond lighting set ups, you can send images to Jayne at info@pondkeeper.co.uk
~Jayne