It may be quiet at winter in your garden, but you can still attract a wide range of wildlife to your pond in the colder months of the year.
22 September 2021
As autumn rolls in, many pond keepers will pack up their equipment, head in doors and pay little attention to the garden and pond until spring. However, winter may be a quiet time for your pond, but it can still be an exciting part of the year. Throughout the colder weather, gardens across the country can act as a lifeline for many native specieis with just a few adjustments and provisions. Attracting wildlife throughout the winter period can bring a new sense of interest to your garden in the colder weather. We have listed some easy ways to encourage wildlife to your pond throughout the winter period.
If you prepare your pond for winter wildlife, you may see a wide variety of creatures using your garden. This may include butterflies, toads, newts, frogs, beetles, ladybirds, hedgehogs, wrens, bees, dragonfly larvae and so much more.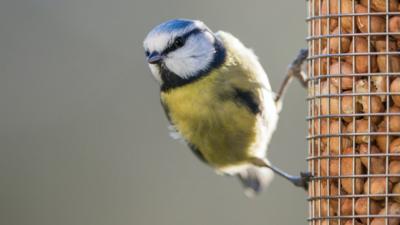 Provide Food and Water
As the winter weather storms in, food and drinking water become scarce. Making sure that these are readily available will attract a plethora of wildlife to your pond.
How to provide Water
Many pond keepers know that the pond can freeze over in the winter, which you will need to prevent to keep the pond healthy. But as various ponds do freeze over, this reduces access to drinking water for many wildlife species; its best to try to keep an edge of the pond free from ice to provide easy access for wildlife.
How to provide Food
During winter, sources of food can be scarce to find for wildlife in the same way that water can be scarce. You can provide food by installing a bird feeder by your pond or set out a shallow plate of food. It is often a good idea to plant berry trees or fruit-bearing trees (apples, pears etc) or by leaving seeds; while integral for the wildlife visiting your pond, this will add a splash of colour to your garden.
Keep in mind that foods high in fat are useful in winter. Providing mixed dried fruits, nuts and grains is highly recommended. You may even want to leave them with leftover kitchen fats (from bacon, sausages etc) that have solidified.
Provide Shelter
Try to create a variety of wildlife-friendly areas in your garden, as this will help attract a variety of wildlife who will utilise the space in your garden. Letting grass grow in corners or piling rocks to form a mini structure can help provide a safe place for species to hide, even letting leaves accumulate around any structures or in a corner of the garden can allow various wildlife species to stay warm and hide from predators.
If you are trying to create a space for birds, the easiest way to create a shelter for them is to put up a birdhouse to give birds a place to escape the cold wind, perch at night or hide from other species.
Install Plants around the Pond
Putting plants around the pond is great for the aesthetic appeal of your garden. But the plants can provide food and shelter; two out of three of main ways to attract wildlife to your garden. These can be ornamental for an aesthetic purpose, or you can plant the odd berry-bush to cater to the different needs of wildlife species that will visit your garden.
If you have any queries or need assistance, please email us on info@pondkeeper.co.uk.