Cloudy Water can be a sign of decaying organic debris in the pond; there are a few simple solutions which can fix this.
08 September 2020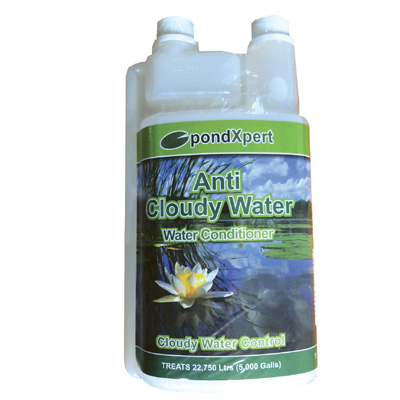 During the summer months, your pond can go a variety of different shades. From green, yellow/brown and even black. But your pond can also go cloudy; so what does this mean?
It could be a variety of things; it could be a sign of decaying matter in your pond, a symptom of New Pond Syndrome (NPS) or a lack of oxygen in the pond.
As always, if you experience any sudden changes in your pond, we recommend that you test the pond with either the Tetra 6-in-1 Test Kit or the Blagdon Dip Test Kit. PondXpert's Anti-Cloudy Water can also be used to treat the water if it has went cloudy.
Sludge / Decaying Matter
Cloudy water is generally caused by decaying organic matter in the pond. This can be excess food, leaves that have fallen into the pond or decaying fish waste. It's really important that you keep your filter maintained. This means washing the foams and replacing the UV bulb in it after 6 months of continuous use.
You can use a range of products to help treat the sludge, or decaying matter, at the bottom of your pond. We would always recommend our PondXpert Sludge Eliminator. This powder treatment will help to remove any sludge at the bottom of your pond.
If you are continuously having problems with cloudy water, it may be that your filtration system is not suitable for the pond. We are always happy to help identify if your system is suitable for the volume of water in your pond and the types of fish present.
New Pond Syndrome (NPS)
If your pond has been recently set up, it will be susceptible to chemical changes as your pond's ecosystem develops. This is commonly called 'New Pond Syndrome (NPS)'. This may include ammonia/nitrite/nitrate spikes as your pond's Nitrogen Cycle begins, discoloured water or other signs of chemical imbalances.
It is important that you keep an eye on your pond after establishing it; look out for any of the following symptoms:
Foam on the surface of the pond
Green, slimey algae developing on the liner
High Ammonia/Nitrite/Nitrate readings when you test the water
In addition to the above, you may see signs of NPS in your fish. This may include:
Fish that are not eating, gasping at the surface of the pond or are sulking away from other fish.
Fish are showing signs of stress.
To balance the chemicals and bacteria in the pond, you can use our PondXpert Gel Balls. These release a healthy dose of healthy bacteria into the pond alongside treating any Ammonia, Nitrites and Nitrates in the pond.
Lack of Oxygen
If your pond is suffering from a lack of oxygen, there will be less healthy bacteria in the pond. This bacteria is normally very good at encouraging the decomposition of the sludge in the pond; keeping your pond healthy and chemically balanced.
Clear signs of your pond needing extra aeration include:
Fish gasping at the surface of the pond.
Foul odours.
Rapid algae development.
Please see our blog post on how to aeration your pond and the benefits of aeration. We have a range of items that can help to aerate the pond; but the best form of aeration comes from an Air Pump.
If you need any further assistance, please contact us.