What type of lighting should I use for my pond? LED, Halogen or Solar lights? What's the difference?
19 July 2021
Pond Lighting allows you to enjoy your pond at all times of day and not just during the daylight. It can create a great atmosphere to sit out in your garden, or provide a display in a public place. They can also help with safety in an area where people might be walking after dark. All lights (excluding solar) come with a transformer which is not submersible and should be kept out of the weather if possible. This transformer will then lead onto a string of lights, with different sets having different number on. This means that each set draws a different amount of power and therefore transformers cannot be miss matched.
Submersible pond lights are designed to illuminate under the surface of your pond. They display light which isn't reflected by the surface, which means they can provide fantastic illumination under your water; including picturesque displays of fish, plants, features, and water patterns. Quality underwater lights are usually quite strong, so can also do a good job of illuminating the entire pond and various features that have been installed. Further to this, a lot of lights on the market can be positioned both inside and outside of the pond; so you can light up any features near the pond or position the lights beside a waterfall.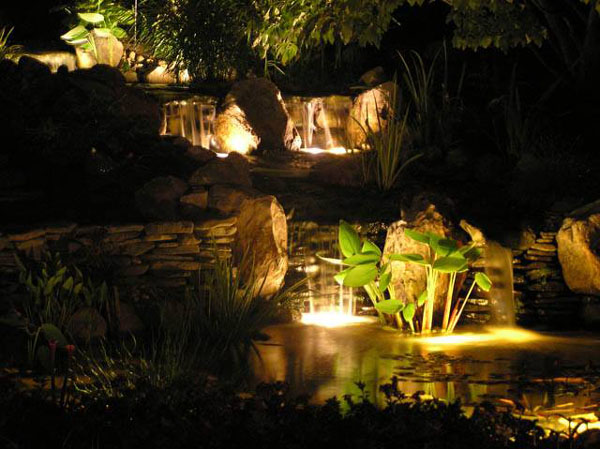 Types of Lights
There are two main types of lights; Halogen, and LED. These are the type of bulb which the lights use.
Halogen – These lights tend to give off more of a classic light glow and tend to be yellower light. This a massive plus as they tend to appear a bit more natural and offer a softer lighting solution. They do however need replacing just like any other light bulb.
LED – These lights use Light Emitting Diodes (LED). These lights tend to give a more directed and whiter light which can look quite clinical. However, the bulbs do not need changing, unless the bulb is physically faulty.
Which are better? LED or Halogen?
LED lights are far more energy efficient than Halogen and they are much brighter. This means they are cheaper to run and can illuminate an increased amount of space. As above, LED bulbs don't need to be changed; so they can be ran for a greater length of time. This is important, as the bulbs will be underwater; you don't want to have to pull the lights in and out of the pond.
Despite the benefits of LED lights over Halogen lights, it really depends on the kind of aesthetic you would like for your pond. Would you prefer a bright light or a softer glow?
Solar Powered Lights
Because LED bulbs are so energy efficient, you are able to purchase solar-powered LED bulbs that come in a whole range of effects, sizes, colours and designs. They are a fantastic way to light up small areas of your pond with the use of a solar panel. As solar lighting is useless during the day, most of the solar powered lights include a battery back up which allows the lights to charge up during the day and then work throughout the night.
Solar lights are a fantastic way to reduce monthly expenditure on pond lighting (they don't require any electricity!). However, please be aware that that solar powered units will decrease in efficiency when they have less energy.
Unless you have a lot of sunlight, or a small pond or the desire for only a small amount of illuminiation, mains powered lights are normally recommended. Mains powered units do not require a significant amount of energy, particularly mains powered LED lights. If you do decide to purchase solar powered lights, then purchasing one with a long-lasting battery is always preffered, particularly ones with 5+ hours after being fully charged.
If you need any assistance, please contact us.